You know that whole quote: "be the change you want to see in the world" that we attribute to Gandhi all the time?
Well, he didn't actually say it.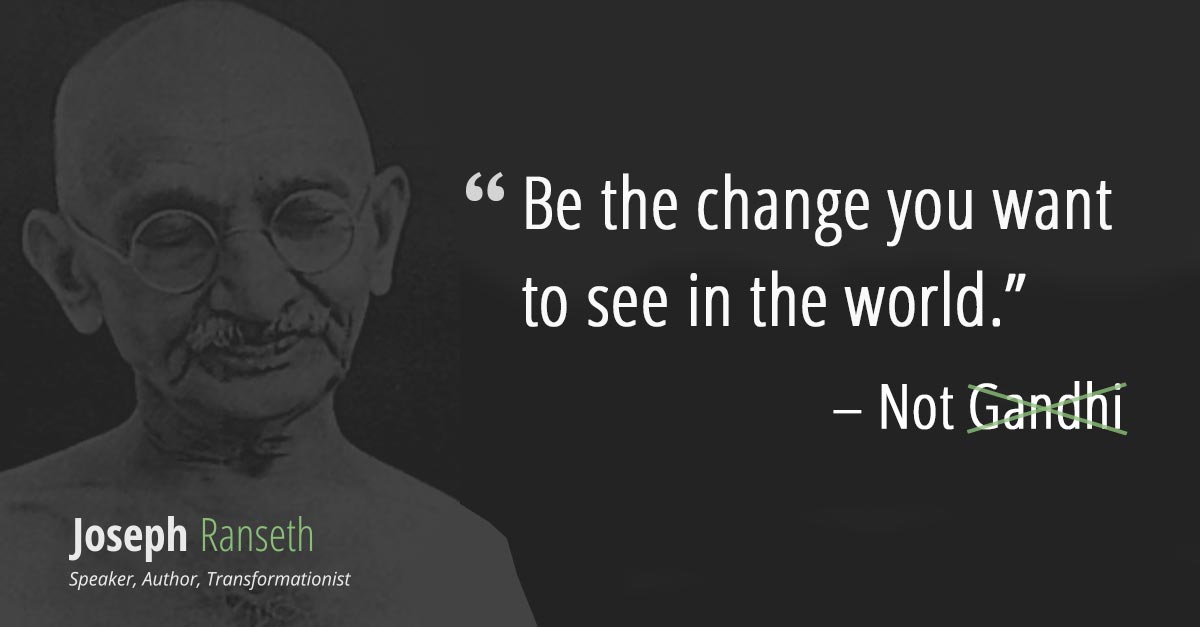 No, Gandhi Did Not Say Be The Change You Want To See In The World
Now this actually is good advice, and even though he didn't actually say it the way we attribute it to him, I believe he'd support the idea. This notion of be the change you want to see in the world does 3 powerful things when we adopt it:
It stops us from judging others;
It replaces complaining about others with  reflection on self;
It stirs us into taking action within the only thing in the world over which we have any control: ourselves.
These things lead us to the beautiful notion embodied in the Michael Jackson song, Man In The Mirror.
What Gandhi Actually Said
And while all of this "be the change" talk is good counsel, if we dig a little bit deeper, we realize that he wasn't just telling us to lead by example, or to not get caught up in other people's business while we still have our own issues to deal with.
What he actually said was something much, much deeper.
Here's the actual quote:
"We but mirror the world. All the tendencies present in the outer world are to be found in the world of our body. If we could change ourselves, the tendencies in the world would also change. As a man changes his own nature, so does the attitude of the world change towards him. This is the divine mystery supreme. A wonderful thing it is and the source of our happiness. We need not wait to see what others do." – Mahatma Gandhi
He was revealing a profound spiritual truth that what we see in the world is no more and no less a reflection of what is unseen inside of ourselves.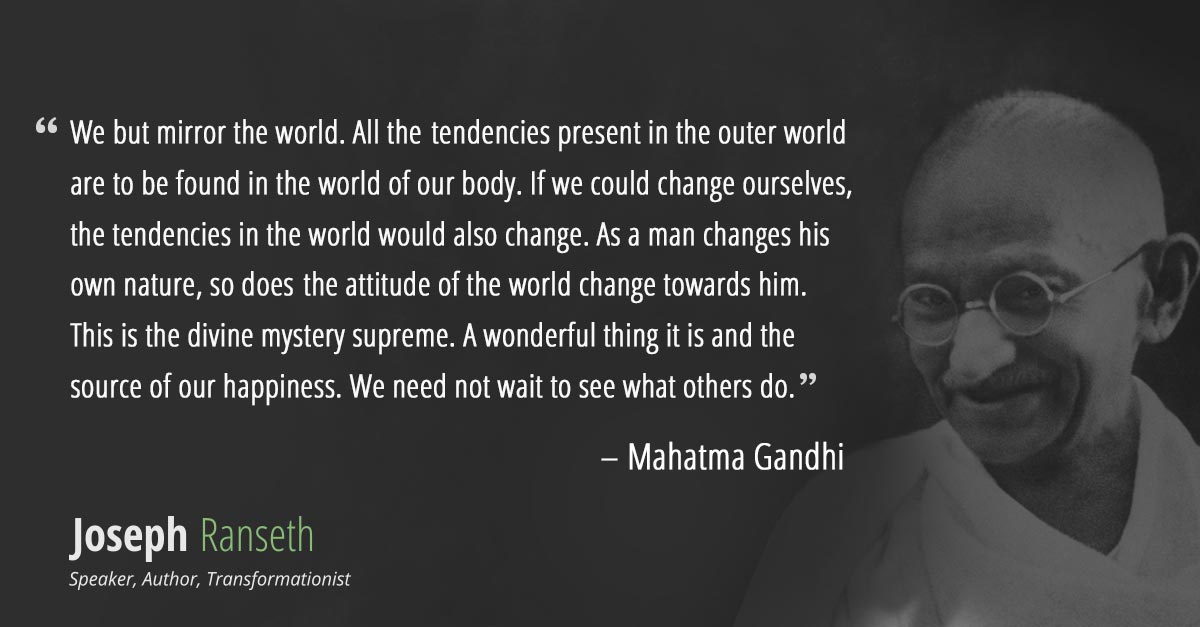 We see here in this quote that Gandhi was pointing to the foundation upon which a lot of today's "spiritual" teachings draw their rationale. (Things like The Secret, etc.) But we also see that he was directing us much deeper. He was guiding us to do the inner work that we often shy away from; the inner change beyond simply wishing or visualizing.
Reading the original quote, one could understand how or why we might paraphrase what he said down to "be the change you want to see in the world" but doing so only gives us part of the story.
The real change comes when we go within and do the work of inner transformation. To examine ourselves openly, honestly, vulnerably and to purge out any resemblance of selfishness, depravity or insecurity.
The source of Gandhi's power: Zero
Gandhi's power came from this inner work. When asked by a reporter "what his secret was" to gain such power over the ruling British empire, he responded: "I try to make myself zero." He was referring to develop such a selfless love that each thought, word and deed was motivated for the welfare and well-being of others, and not for his own gratification. Gandhi was able to have as broad of reach as he did because he went as deep as he did. He had purified himself so that he was motivated by love for others… One does not arrive here without a significant amount of inner work, but it is also requisite to creating a change of that scale. We can't create lasting change by teaching precept alone, but by embodying the precepts.
There is no more important work one can undertake than to raise human consciousness, and to do so requires us to start within.
Are you ready to be the change?
Struggling to get your movement off the ground? Discover how Dr. King and Gandhi took their messages from the back yard to the world
Get the free "Purpose-Driven Marketing Manifesto" ebook outlining exactly how they did it.
* we will not spam, rent, or sell your information *