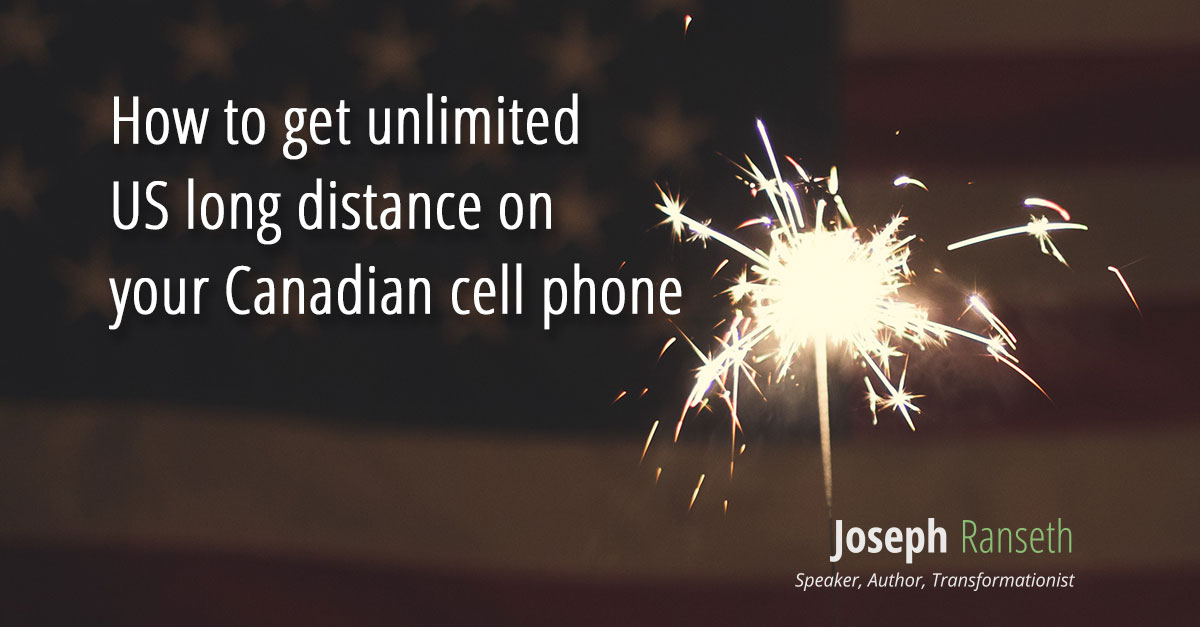 Living in Canada is really cool. It's probably close to what Heaven is like, honestly.
(If you are uncertain about this yourself, you can check out this post for 50 good reasons to agree with me.)
I will be honest… It does have it's disadvantages, though.
For example:
Rogers wireless, my Canadian cell phone provider, reminded me (with an $1100 bill) that calling the USA is an "international" call.
Ouch.
So, deciding to put my Mensa card to use (joking… :P), I devised a workaround.
Here's what you need to do:
SKYPE

Register for an Unlimited US & Canada Skype subscription. Total cost = $2.95/month
You will also need a Skype Online Number. This costs $30/year or $9 for 3 months. Make sure this is a USA number.
Open your skype application and set your forwarding to your Canadian cell phone:

Click on: Tools -> Options
Click on: Calls and check "Forward calls when I'm not on Skype" and and your cell #
Set it to: "Forward calls if I do not answer within [0] seconds"

Google Voice

Create a Google Voice account.  You will need an invite from someone who has one if you don't already have one. (I can sell you one for about $1100…j/k) You will also need to do this from a US-based IP address. If you aren't in the US while doing this, it won't work. Hire a Virtual Assistant in the USA to do it for you.
Go to Settings -> Phones and add your Skype "online number."  Set this as your default phone to call when you use Google Voice.

Your Canadian Cell Phone Carrier

Having the Unlimited Incoming Call option on your cell phone plan is ideal if you are making a lot of calls.
You'll need web-access on your phone. Some carriers require a data plan, others will charge you per use.
Those are the tools and settings. Once that's in place, it's really easy. 🙂
Making Calls
When you're ready to make calls to the USA, or anywhere in Canada, just:
Open up your browser on your phone and visit https://www.google.com/voice.
Click on contacts and then choose your desired contact.
Click call and wait… your phone will ring – answer it, It's Google! Once you answer, Google Voice will start dialing your chosen contact.
Since the call begins with an incoming from Google Voice, you don't have to worry about watching minutes if you have the unlimited incoming option.
Limitations
The only limitations to consider are this:
Your skype subscription has to be active to forward
The mobile version of Google Voice will only let you call contacts that are already existing in your contact list. You'll have to add them from your regular browser before calling from your phone.
Other Awesomeness
Your American/US-based friends can also call/text your Google Voice number without having to pay the international fees that it would cost if they were to reach out to you via your Canadian number.
Does this help? If so, please digg it or pass it along to your Canadian friends!